Fullscript is my trusted health supplements dispensary that carries only the highest quality products. You can get turmeric, probiotics, fish oil, multi vitamins, skin care and lots of other goodies from trusted brands and have them shipped directly to your home. It's easy to do:
Click on "Place Order" the link below
Enter your email and create a password
You will be guided to the catalogue and you can start shopping!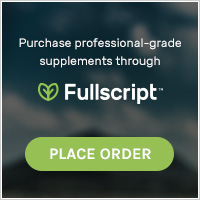 The very good news is that I get to offer you a 20% discount on everything on Fullscript every time you order! You can get daily supplements for yourself and your family, including turmeric, probiotics, fish oil, multi vitamins, and lots of other goodies. Plus, shipping is always FREE for orders over $50.
When you order from my online store, you are assured of a quality product—no fillers or additives like artificial colors. And, I'm happy to answer any questions regarding products you're ordering from my online health dispensary.
The world needs healthy people right now (!!), and I'm so grateful to serve and support your mind, body, and health.
FEATURED PRODUCT 
Milk thistle is a powerful detoxifying herb that has a big job. It aids liver function to support better cholesterol and blood glucose levels. It has strong anti-viral properties as well, which can give your immune system a boost. And there are current studies focusing on its anti-inflammatory properties to prevent the decline in brain function we experience as we age.
My Favorite Herbal Milk Thistle: Liver Health from Herb Pharm
My favorite way to take milk thistle is as an organic herbal tincture called Liver Health made by Herb Pharm. It contains the whole milk thistle seed (Silybum marianum) plus other liver-friendly herbs like dandelion, artichoke leaf, and fennel seed. I hold Herb Pharm in high regard because of their high-quality products (almost all organic!) and ethical farming practices.
Please note: milk thistle may interact with some prescription medications, so I recommend you first talk to your doctor if that is a concern.  If the alcohol in the tincture is an issue or if you just prefer another form, milk thistle is also available in capsule form.
To order a bottle of Liver Health or check out any other items, visit my Fullscript store. Enter your email and create an account, then you can navigate to the catalog and start searching.