Fullscript is my trusted health supplements dispensary that carries only the highest quality products. You can get turmeric, probiotics, fish oil, multi vitamins, skin care and lots of other goodies from trusted brands and have them shipped directly to your home. It's easy to do:
Click on "Place Order" the link below
Enter your email and create a password
You will be guided to the catalogue and you can start shopping!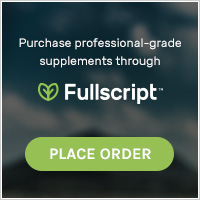 The very good news is that I get to offer you a 20% discount on everything on Fullscript every time you order! You can get daily supplements for yourself and your family, including turmeric, probiotics, fish oil, multi vitamins, and lots of other goodies. Plus, shipping is always FREE for orders over $50.
When you order from my online store, you are assured of a quality product—no fillers or additives like artificial colors. And, I'm happy to answer any questions regarding products you're ordering from my online health dispensary. If you prefer, I can always order the items for you and you can pick up in the office. You let me know what's best for you.
The world needs healthy people right now (!!), and I'm so grateful to serve and support your mind, body, and health.
FEATURED PRODUCT 
These days, I'm all about using Medicinal MUSHROOMS for immunity and overall health! Specifically I love a line of medicinal mushrooms from Host Defense. The founder, Paul Stamets, is a personal hero of mine. He is committed to curing colony collapse disease in bees using medicinal mushrooms and is constantly doing ground breaking research. (Google him for more info!) Their products are non-GMO, certified organic and gluten free.
My favorite is one of their products called MycoCommunity. I take it when I'm traveling or tired or if I feel like I'm fighting something off or if I'm around sick people (ha ha – which as you can guess is a lot in my office!) and I almost never get sick! It's a blend of 17 potent mushroom species. Their literature says it's a "Unique combination of mushroom mycelium and fruitbodies, providing a diverse range of constituents to help balance the immune system*". It's available in tincture (alcohol based) or capsule. Personally I like the tinctures but they are both good.
Other mushroom blends from Host Defense that I recommend:
Stamets 7 – for daily support of the Immune System*
CordyChi – for Stress and Fatigue*
*These statements have not been evaluated by the Food and Drug Administration. This product is not intended to diagnose, treat, cure or prevent any disease.
To order any Host Defense Mushrooms or check out any other items, visit my Fullscript store. After you click on the link, enter your email and create an account, then you can navigate to the catalog and start searching. Please contact me if you have any questions! We also stock these items in the office so you can pick some up on your next visit.